Online application links for HP Police Constable Recruitment 2021 can be found on the official notification. Applicants for HP Police jobs can apply online through the recruitment website. Interested applicants should read our article to learn more about HP Police Constable Recruitment 2021. How to apply for this post has also been outlined in our article, and the link to apply on the official website has also been provided.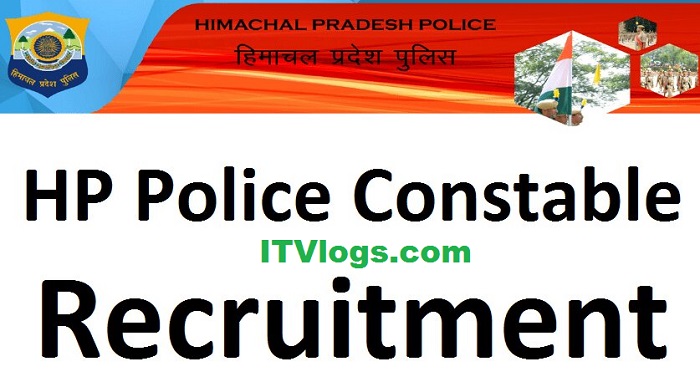 HP Police Constable Recruitment 2021
In total, 1334 posts have been released for this position by the Himachal Pradesh Police Recruitment Board. Constable applications will be accepted online from 01 October 2021 and the application deadline is 30 October 2021. On 10 September 2021, the organization published a notification for this post.
Constable vacancies are released every year, and many candidates apply every year for these vacancies. For this position, you will be selected based on your qualifications. Several recruitment campaigns were organized at the state level after being selected to fill this post. Himachal Pradesh is also the location of your job. A completely fair recruitment process will be followed. The official website contains more information about this, which you can check if you want.
Eligibility Criteria
Applicants for this post must submit their application forms, and there are some things they need to remember when submitting their forms.
Vacancy
You will be recruited based on your gender, sex, and job role for the post of constable. The organization has issued the job vacancy, so you cannot change it yourself.
91 Driver
932 Male Constable
311 Female Constables
Age
Those who are interested in this position must also take into account their age. For this position, your minimum age must be 18 years old, and for all categories, your maximum age must be 21 years old. The following are the age limits:
GEN 18 to 25 years
The SC 18-27 years
The ST 18-27 years
The OBC 18-27 years
Gorkhas 18 – 27 years
You may also Apply: IIT Hyderabad Recruitment 2021 Apply Online – 24 Vacancies
The application form for this position must be submitted along with your academic qualification.
A high school diploma from an accredited board is required for this position.
If you do not have a teaching qualification, you cannot apply for this position.
HP Police Constable Application Fees
The application fee for this post is separate for each category and must be submitted to apply. Applicants can pay their application fees online by clicking on the following links:
Banking online
Card with a credit limit
Credit or debit card
And so on.
We have provided full Full details of this application fee in our article, including:
Gen. Rs.300/-
Gorkhas Rs. 300/-
Home Guards Rs.300
Women Rs.100
SC Rs.100
BPL Rs.100
EWS Rs.100
OBC Rs.100
ST Rs.100
HP Police Constable Selection Process
Getting recruited for the post of constable requires you to perform well during the recruitment process. Organizers are responsible for preparing for the process. A completely fair election will take place. Interested candidates should follow these steps:
Standard Physical Test
Phys-Ed-Test
Examined in writing
Salary
The complete salary information you will receive after being hired on this post will be published in our article. Constables will receive a salary range of Rs.5910 to Rs.20,200/– and along with it, grade pay of Rs.1900/-. It is determined by the organization what salary this position will receive.
How to register online HP Police Constable
I recommend starting at the official website.
Select the registration option on the next page.
Your personal information must be filled out next.
Filling out forms is followed by submission.
Downloading and saving the registration form is also possible.
The information that we have provided you about HP Police Constable Recruitment 2021 we hope you have found useful. Using the comments section, please ask any other questions you may have.
There will be a deadline of 31-10-2021 for applications to be submitted online, including in Tribal Districts of Lahaul, Spiti, and Kinnaur.